Interview with DR. DARRYL BABE WILSON, 1939 -
By Betty J. Mason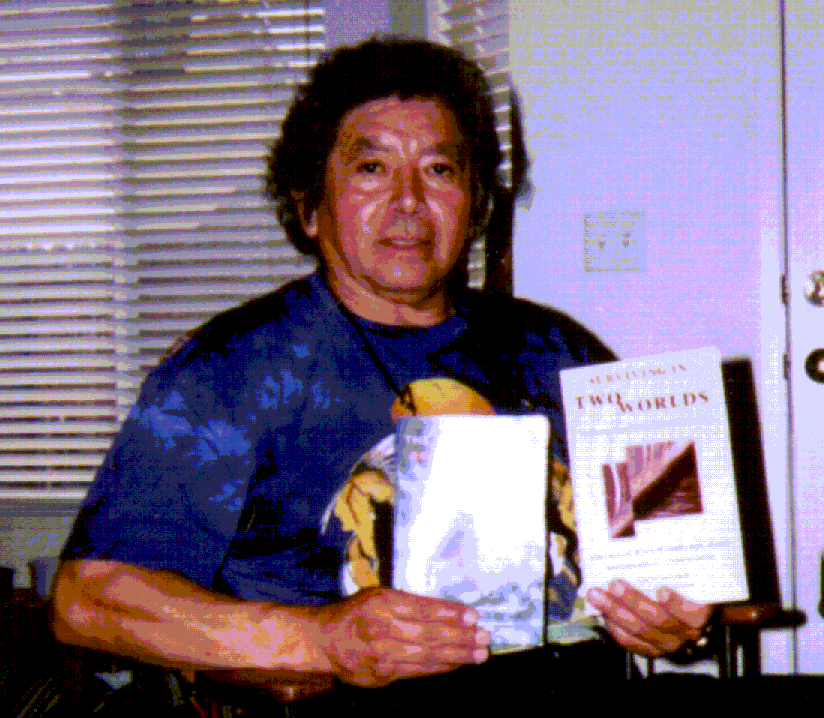 Dr. Darryl Babe Wilson is a scholar/poet and a political activist, a humorist and a storyteller. During a recent newspaper interview in 1998, he described himself as "a dreamer and a storyteller".
As a traditional storyteller, he preserves the oral traditions and cultural survival of Native Nations. Similar to the legendary Kopelli, he traveled and worked with Indian youth preserving their traditions and literature. Darryl was involved with a writing and publishing program that worked with Native children on reservations in the Southwest. He edited the ArtsReach Literary Magazine's Dancing with the Wind, Volume VII, 1995/1996. From that experience, he noticed the healing process in children that evolved through writing.

Dr. Wilson is the author of the critically acclaimed The Morning The Sun Went Down, his autobiography from grade school to military service during the 1940's and 1950's. His recent 1998 publication is the scholarly memoir of the contemporary California Indian. He portrays the powerful recollections of his childhood rendered of his daily struggles, sometimes very painful, with a family tragedy. Born of the Achumawe and Atsugewi, his tribes are also called the Pit River Nation. Dr. Wilson recounts his tribal history alternating between oral legends with Iss/Aw'te expressions and contemporary life. Insurmountable problems were due to family and cultural separation, tribal politics, alcohol, the state courts system, foster homes and later, the juvenile detention center. His ultimate healing and survival was due to his native traditional values and the inspirational English teacher, Mr. Grossen, who recognized his writing talents. Powerful prose and stunning visual imagery draws the reader into a different reality, the universe of the dreaming people.
Teaching is a phenomenal joy for Dr. Wilson. He instructs classes in Native American Oral Literature in the Native American Studies Program at San Francisco State University and the Ethnic Studies Program at California State University, Hayward. He also teaches English at various community colleges in the Bay area. In his classes, he continues to compile student narratives into great works of art. The latest is entitled "A Collection of Flowers: An Anthology," by the Students of Ethnic Studies 3305, CSU Hayward. In addition, his former students ranging from the Arctic Circle to the tip of Tierra del Fuego send him videos on their oral traditions for his literature classes.
His essays, short stories and poems have been published in: The Sound of Rattles and Clappers edited in 1994 by Greg Sarris, The Way We Lived edited in1993 by Malcolm Margolin, and News from Native California, a quarterly publication. He was instrumental in working with the California Indian writers in completing their deadlines for the anthology edited by Sarris. Dr. Wilson co-edited Surviving in Two Worlds: Contemporary Native American Voices, in 1997 with Lois Hogle. He wrote a brief biography on Wilma Mankiller in 1995, and a critical excerpt on Wendy Rose was included in the 1998 Native American Women Writers. A forthcoming publication from the University of Arizona, based on the 1932 Park field notes on his people, is entitled Yokenaswi Yusji: Necklace of Animal Hearts. He is working on a possible movie on his current bestseller, and is continuing his memoirs.
His educational credentials include a BA in English with a minor in Native American Studies from the University of California at Davis in 1991. He was awarded a Masters of Arts in Native American Studies from the University of Arizona, Tucson; and the Ph.D. in Comparative Cultural and Literary Studies, also from the University of Arizona in 1997. He was awarded The Ford Fellowship to support the completion of his dissertation.
Remove Them Beyond The West, California, Gold! Is his dissertation based on the removal of his tribe from their lands during the Gold Rush era to Diamond Island (Alcatraz). The Pit River people were marched from northeastern California to Redding and down to Sacramento. There his people were forced on a ship and taken to Alcatraz. Later his people were shipped out to the ocean and many were thrown into the icy water.
"Children are the most important thing", stated Dr. Wilson. Recently as a presenter, he questioned librarians about how many had publications on writings by native children. He was on a panel entitled More Than 150 Years: California Indians in Children's Books with Lauren Teixeria, a librarian and Malcolm Margolin, a publisher, at the November 1998 California Library Association Conference. Dr. Wilson is also a featured storyteller at the California Indian Storytellers Association events.
He works well with youth, perhaps due to fatherhood and raising seven sons. Two sons at home are the twins, Theo and Seterro. Three sons, Sonny, Lance and Cory live in Oregon, while two other sons live in Washington State. Seterro, a high school student, is a storyteller and a published poet. Darryl now lives in San Jose, California.
As a political and cultural activist, he is involved in native causes and communities, when he is not writing or teaching. In his dreams, he almost understands the ancient two-hundred-year-old dialect of his tribal elders. However, in his tribe, there are only two or three remaining native speakers. As in his book, Dr. Darryl Babe Wilson, named for the famous baseball star, continues to "best them". He believes that there is a void in the native arena of educators, poets, and dreamers. His goal is to raise "300 to 3000 native writers and place them on a higher rung than me."
A contemporary California Indian and scholar, Dr. Wilson is the traditional tribal elder and storyteller, only 59, who carries the Indian community within him.
(Sources: Interview, March 1999; Author Profile and Flyer, Heyday Books; "Holding to his roots: American-Indian author looks to native customs for healing, inspiration", The Book Review, The Contra Costa Times, August 30, 1998; The Morning The Sun Went Down, Heyday Books, Berkeley, 1998)
04/11/99; revised 04/27/99 by Betty J. Mason